It's the first weekend of August! Enjoy your weekend in Winter Park with these 5 Things To Do.
1) Mountaintop Yoga & Hike
We're excited to offer Mountain Hike and Yoga on both Saturday, August 7, and Sunday, August 8 this weekend! Starting at 9:45am, take a scenic Gondola ride to the top and warm up your body and soul with a short 1.5-mile hike to the Sundance Hut. Spend 45 minutes practicing yoga, led by a certified yoga instructor. All experiences are welcomed. Namaste.
Emily ★★★★★ – Such a beautiful way to spend a morning! An enjoyable hike, rejuvenating yoga session, and a quick hike back — absolutely a perfect combination of physical & mental exercise. Highly recommend this experience & guide [Sudi]!!
2) Explore Rocky Mountain National Park
Just a short 37 miles away sits the crowned jewel of National Parks, Rocky Mountain National Park (RMNP). With 355 miles of hiking trails, 156 alpine lakes, 450 miles of streams and rivers, 60 species of mammals including elk, bighorn sheep, and moose, 77 mountain peaks over 12,000 feet, and nearly 250,000 acres of protected wilderness, you'll truly be blown away by the natural beauty! RMNP also has the highest continuous paved highway in the nation sitting just over 12,000 feet, Trail Ridge Road.
RMNP requires a reservation for your entry to the National Park. Learn more about the Timed Entry Permit System here.
Does it sound intimidating with all the opportunities for adventure and required reservations? Don't worry! Venture Out with an experienced local guide that'll tailor your tour to your wants and needs. Go out and see glacial lakes, snowcapped peaks, and maybe even some wildlife! Package includes entry fee and reservation to RMNP, snacks, and guided service. It's your last chance to book and save 20% off lodging + 20% off your guided RMNP Hike. Deal ends on August 9.
3) Watch a Movie Under the Stars
On Friday, August 6, head to the Cabriolet Meadow for a family comedy, Coco. Starting at 8:30pm (Weather permitting), this FREE event is the perfect way to end a long day of Venturing Out. Winter Park will provide the movie, chairs, and beautiful surroundings.
We recommend that you bring an extra jacket and a blanket because the temps drop when the sun goes down. Also, no movie is complete without some snacks, so hop over to Five Mountain Tavern, located at the Vintage Hotel.
PS – We recommend getting the fried ice cream 😋, it's the best movie snack!
4) Mountaintop Happy Hour
On Friday, August 6, and Saturday, August 7 from 4pm-6:30pm, enjoy a peaceful Gondola ride to Sunspot where you can grab a local brew or snack for Mountaintop Happy Hour! On your ride up to 10,700ft, you'll get panoramic views of Fraser Valley, the Continental Divide, and the iconic Parry Peak. From the top of the Gondola, Venture Out on one of the many high alpine hiking trails we have to offer, like Lower Roof of the Rockies, or enjoy a post-happy hour hike back down to the base. You can also kick back and relax at Sunspot Lodge with inspiring views, refreshing drinks, and delicious snacks! Plus, watch the Trestle riders drop into the infamous double black diamond mountain bike trail, Trestle Downhill.
5) Ride the Alpine Slide
An activity that should be on everyone's bucket list when you visit Winter Park. The Alpine Slide has 3,000ft of smooth track, making it Colorado's longest! Enjoy a scenic chairlift ride and watch others zoom down on the slide below. At the top, choose between a beginner track or an intermediate track and enjoy the ride down with the wind blowing through your hair and giant grins! On the Alpine Slide, you can moderate your own speed, so speed demons and sightseers alike can enjoy the ride down.
*BONUS* Second Creek to Winter Park Resort Hike
Venture Out with our knowledgable guides this weekend with our newest hike, Second Creek to Winter Park Resort. Travel up a shaded trail as you walk next to the Second Creek drainage. Keep on the trail as you explore above the treeline to take in the jaw-dropping views of the Continental Divide and the surrounding mountains. Make your way to the top of North Cone, the highest point at the resort sitting at 12,060ft. Begin your descent back towards Sunspot, where you can enjoy a cold beverage and some snacks to end a beautiful 6.5-mile hike! Book your guided hike NOW.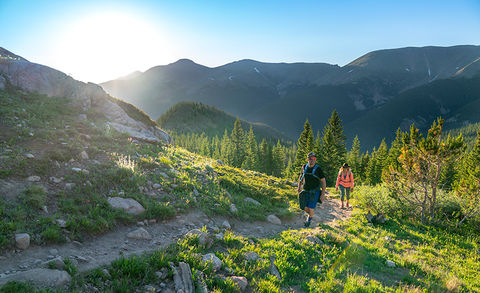 We can't wait to Venture Out with you this weekend, and beyond! If you're looking for even more to do, make sure to read our 100 Things To Do In Winter Park This Summer blog to add to your Winter Park bucket list. We'll see you out there!