It's full fall mode in the mountains! There are only 2 weekends of summer operations left at Winter Park, so plan your Fall Escape now and save up to 25% on lodging (deal ends October 1). Check out these 5 things to do in Winter Park this weekend.
PS – Saturday, October 2 is Upslope Backcountry Tap Room! Take a 2-mile hike on the Lower Roof of the Rockies trail to the Upslope Backcountry Tap Room. Once you arrive, you'll be greeted with scenic views and four bars serving the brand new, limited edition, Mary Jane Ale. Get your tickets before they sell out.
1) Check Out the Fall Foliage
It's about to be peak fall colors in the next couple of days, so grab your flannel and go explore! This weekend, head to Fraser and enjoy a hike down the Chainsaw/Flume trails. If you have a high-clearance vehicle, take a drive up Corona Pass, where you'll be able to peep the changing leaves with the ski runs in the background.
2) Second Creek to Winter Park Resort Hike
Venture Out with our knowledgable guides this weekend with our newest hike, Second Creek to Winter Park Resort. Travel up a shaded trail as you walk next to the Second Creek drainage. Keep on the trail as you explore above the treeline to take in the jaw-dropping views of the Continental Divide and the surrounding mountains. Make your way to the top of North Cone, the highest point at the resort sitting at 12,060ft. Begin your descent back towards Sunspot, where you can enjoy a cold beverage and some snacks to end a beautiful 6.5-mile hike! Book your guided hike NOW.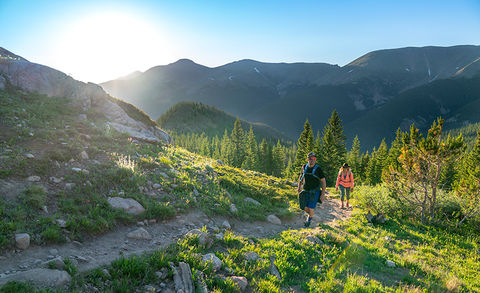 Denis ★★★★★ – "Great Hike. Initially, very steep and taxing, then on to very beautiful scenery and very majestic views of the surrounding peaks. Savannah pointed out we could see Long's Peak from the top of Panorama Lift when we arrived at Winter Park area. Nice and relaxing hike with lots of interesting info from Savannah, the guide. well worth the experience."
3) Trestle Bike Park
You only have 2 weeks left to try out the most fun you'll have on 2 wheels! Trestle Bike Park is home to over 40 miles of gravity-fed trails and 3 lifts to take you back up so you can do it all over again. Whether you're a novice or an expert downhiller, there are plenty of trails for you to experience. For you first-timers out there, make sure to read our First Timer's Guide to learn about safety, the gear, bike parts, trail ratings, and trail etiquette. So grab your rentals, a bike coach, and ride ya damn bike.
4) Experience the Elk Rut at Rocky Mountain National Park
This is truly a must-see experience in the fall. From the end of August to Mid-October, it's mating season for Elk. The male Elk (bulls) try to swoon their female counterparts by doing a "song-and-dance". The male Elk are full-grown, their antlers are sharp and ready for display (or maybe even battle)! The bulls will bugle to attracts mates and intimidate other bulls.
The best places to see this are low-level, open, grassy places. On this side of RMNP, check out Kawuneeche Valley. RMNP requires a reservation for your entry to the National Park. Learn more about the Timed Entry Permit System here.
5) Mountaintop Yoga & Hike
Take a scenic Gondola ride to the top and warm up your body and soul with a short 1.5-mile hike to the Sundance Hut through a shaded forest with beautiful views and streams. Spend 45 minutes practicing yoga, led by a certified yoga instructor, on the top of the Sundance Hut looking out over Fraser Valley. All experiences are welcomed. Namaste.
Saturday, September 25 | 9:45am, 12:30pm
Sunday, September 26 | 9:45am, 12:30pm
Wednesday, September 29 | 9:45am, 12:30pm
Terry ★★★★★ – Great hike to a beautiful meadow for yoga. Thoroughly enjoyed the whole experience. [Kristine] is a great yoga instructor! Highly recommend this experience.
Don't forget that The Vintage Hotel @ Winter Park Resort is dog-friendly. It's the perfect place to call "home" for the weekend. We can't wait to see you out in Winter Park for labor day weekend. Also, read our 7 Must-Do Fall Activities & 4 Dog-Friendly Hikes blogs for even more ideas.
Do you have your heart set on a mountain getaway this winter? Get free tours & experiences when you book lodging & lift tickets at 25% off. Escape to the mountains this winter to enjoy pure and unspoiled nature at its finest.